Discussion Starter
•
#1
•
I'm upgrading my old Crane HI-6S ignition to a HI-6 with an LX92 coil. The coil is fatter than the stock coil (actually, I had a PS91 on there, but it was stock-sized), so I want to clean up the wiring around the coil and starter solenoid to make room. Here's how things look now...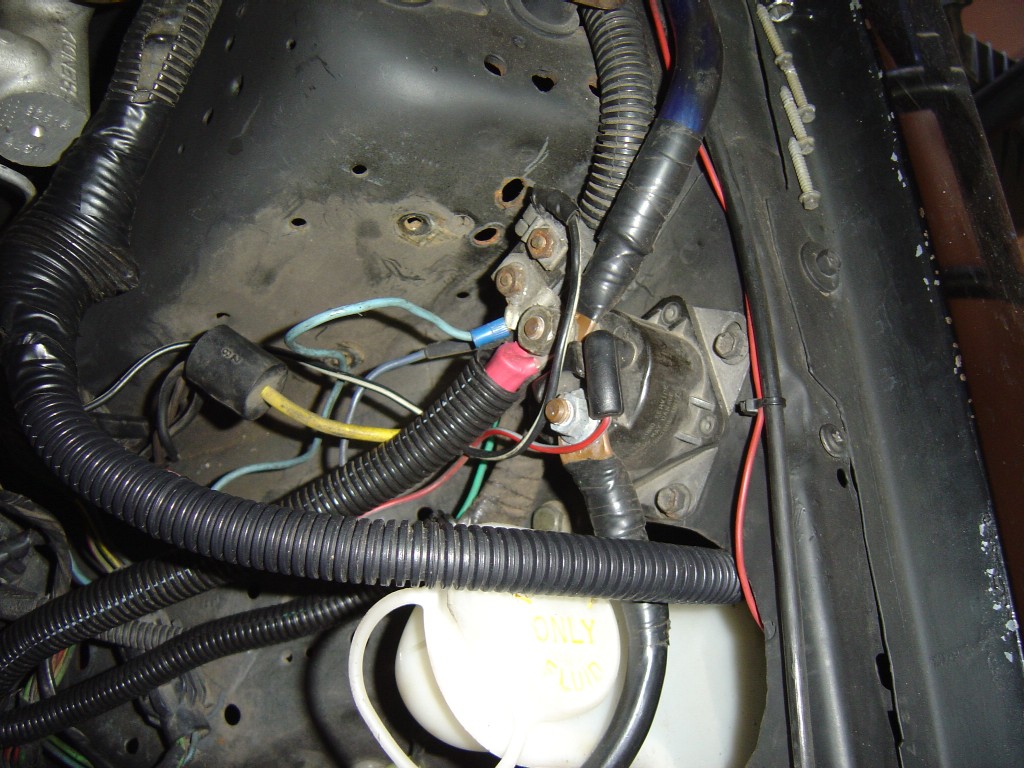 The fat blue cable coming in from the top of the picture is from the battery in the trunk. The one with the red insulated spade heading to the bottom left is the alternator cable. What I'd like some help with is figuring out what the remaining wires are hooked up to the + terminal on the starter soleniod.
- There's the kind of thick yellow wire with the fat fusible link on it, which then splits out to I think 4 different wires (each with another fusible link). That all goes into the big, fat wiring harness heading back towards the firewall in the upper left of the picture. No idea what all that's for.
- The lighter blue one is a splice job from years ago (long enough that I don't remember doing it
) - it goes to the yellow wire that goes across the radiator over to the alternator. So I actually figured that one out.
- The slightly darker light blue wire goes immediately to a 20ga fusible link, then into the smaller wiring harness going back to the firewall in the top middle of the picture. I'm not sure what that blue wire is.
- Probably the thing I'm most curious about is what is the little circuit breaker thing that bolts onto the positive terminal? The Shop Manual just labels it a circuit breaker, and says something about "on cars with the Preferred Equipment Group" or something like that. The black with white stripe wire coming off of it goes into the big, fat wiring harness in the upper left of the picture. Any idea what that one is?
So, any wiring experts want to help me figure this stuff out, or know where I can find the wiring diagrams online? The general Shop Manual I have shows wiring harness numbers, but it doesn't break down what wiring is in each harness with color codes or anything like that. I guess maybe I need to just break down and buy myself a copy of the Electric and Vacuum Troubleshooting Manual (or whatever it's called), but I wouldn't be surprised if it's already online somewhere after all these years.
I much appreciate any help.