·
Formerly known as 20thAniv
Discussion Starter
•
#1
•
I'm very close to finally getting this thing running again and thought some of you guys might like to see what I've done.
Background: A while back, I took the car to the track and the engine started making a ticking noise that didn't sound very good. I built the engine back in '98 and beat on it for MANY miles since that time, so I really couldn't complain about pulling it out and freshening it up. I had also been wanting to build my own turbo kit for a few years now and figured that since I had the engine out, now would be as good a time as any. I have also wanted to clean up the engine compartment since I got the car 10 years ago, so I decided to have a go at that too. Suddenly this engine rebuild turned into a MUCH bigger project!
Here's a picture of the old Cartech Street Sleeper kit that I had. I had some good results with it, but felt I could do better with a more free flowing design. With this kit, the air came out of the compressor and made two 90* bends right away. The IC was horizontally mounted and I don't think it was getting the best airflow through it as well. Before I put my methanol injection setup on it, I saw IATs of 240* with 18 lbs of boost out of a 60mm turbo. The DP also had a VERY tight bend straight out of the turbine housing, which I'm sure was impeding flow and causing more back pressure.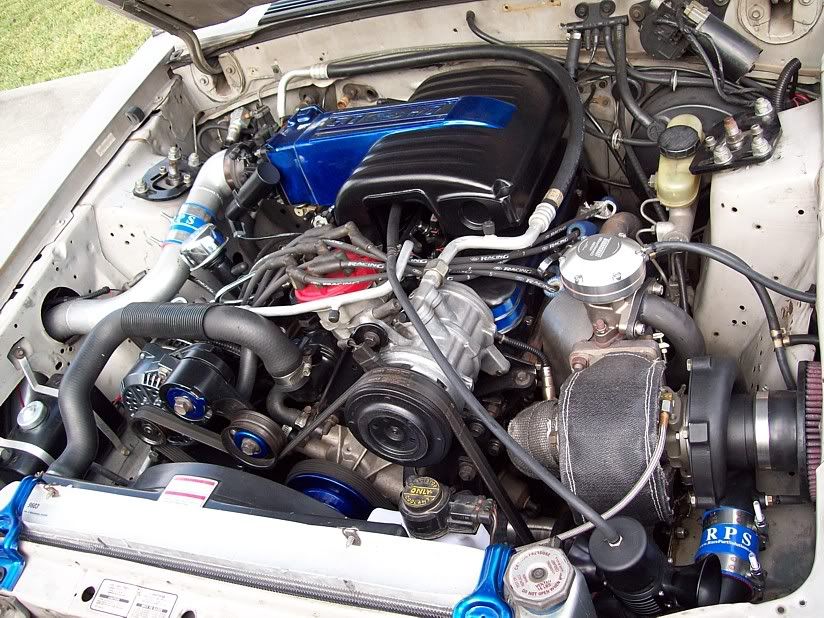 The new turbo kit is going to consist of this:
66mm turbo built by Supernatural Turbo
A/W intercooler from the boys at RPS
oil scavenge pump that I got from John at RPS
3" aluminum intake piping
50mm JGS BOV
FRPP 1 5/8" headers
2" crossover (I built a 2 1/2" one to start, but after changing a few things, it didn't line up very well anymore, so I remade it in 2")
40mm JGS wastegate
3" DP split to two 2 1/2" pipes through Hooker Max Flow mufflers