Discussion Starter
•
#1
•
Alright so my motor is in, turbo manifolds are looking good, and im ready to get may gate / BOV plumbing started.
Looking for 14-20 psi of boost
Question #1: Springs. My wastegate came with 3 springs as seen below. The rates are claimed to be 7#, 14# and 17#. Does anyone know which one is which? My assumption is (left to right) 14#, 17#, 7#. That seem right? My plan is to install the 14# and run that. I do plan on running a manual boost controller so at the end of the day the spring choice isn't super critical, correct? (as long as my boost target is within the spring/controller range...aka spring rate x2)
Question #2: Wastegate plumbing. As seen below (and most of the diagrams I see) the boost controller line feeds to the BOTTOM of the diaphragm of the wastegate. Why? If pressure builds on the underside of the diaphragm the wastegate will open SOONER...wouldn't you want the force generated by boost pressure to ASSIST the spring in turn increasing your boost level? (pressure on the top side of the diaphragm)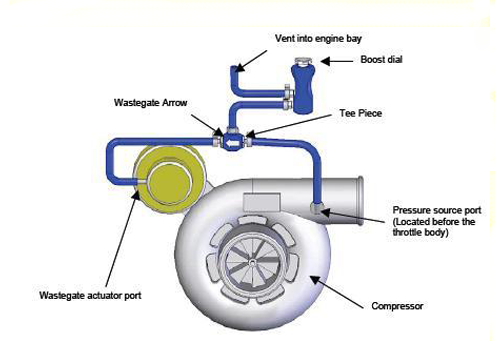 Sanity check: A manual boost controller basically just works as a "bleeding" valve that controls the amount of pressure/flow that the wastegate will see, correct? The less pressure you bleed off using the boost controller, the more pressure the wastegate sees, in turn, raising boost level.
I'm getting pretty damn close to firing this thing up...getting excited!