Discussion Starter
•
#1
•
I posted a thread a few weeks back about having 60 ft. issues. I installed Baseline Suspension components and my 60 fts. didn't improve. I had all my bases covered, but everything kept pointing back to my tires. I was using 26X11.5X15 Et streets that were well used and 2 1/2 yrs. old. They still had the wear lines in them so I kept using them. I emailed Kevin and he told me to get the ET Drags and see what happens. Last time out I was running..
10.4'
[email protected]
with 1.59-1.62 60's
I installed the 26X10X15 ET Drags on some new 15x8's and headed to the track Sat. night. First run I sidestepped it at 4k and it slightly bogged..
[email protected]
with a 1.51 60.
I was happy that it bogged because I knew I could raise the RPM to 4500 and sidestep it again hopefully to a 1.4x..Here is the timeslip..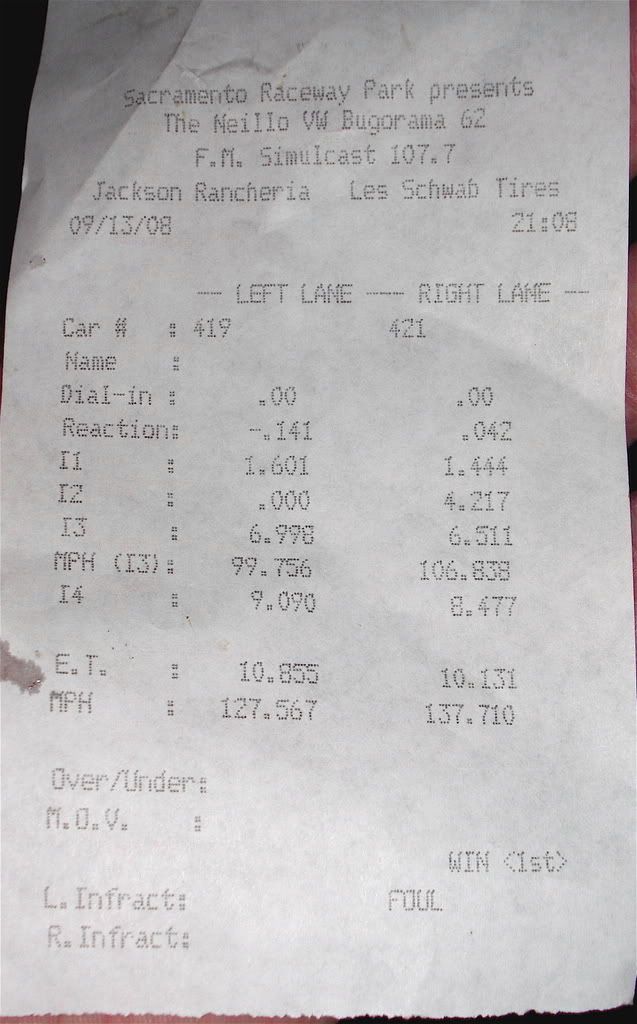 I was juiced when I looked up at the board when driving and seen that 1.44 :salute: My goal that night was to run a 10.2x, So I was stoked to surpass that with the 10.13. I'm going back next month in some colder weather and see if I can improve on it. The other car on the timeslip is my cousin Zack. We just bolted his S-Trim on last week to see if he could finally get into the 10's. I wanted to congratulate him on getting in there :salute: He already has plans on going faster at next months grudge night ( pulley change, tire change, Methanol).