Discussion Starter
•
#1
•
Ok.....so I've bought multiple kits from On3Performance, but as of yesterday I am done with them.....and here's why.
1) Over the last year I've seen Chad's customer service drop from good to complete garbage.
2) NONE of the flanges on my kit were straight. Not even close. The headers would rock back and forth on a table if you layed them face down. Permatex does not annually produce the amount of copper silicone that would have been required to make them seal. No biggie, it's a cheap kit, so I'm not really mad. I milled the headers flat as well as the v-band flanges.
3) The bolt holes in the headers suck. Had to drill the headers out a bigger size for the bolts to fit. Not a huge deal, but still it's annoying.
4) The v-bands on the cross-over pipe still leaked. No biggie, I'll just put some copper silicone on them.......they still leak. I tried making a gasket for them......they still leak. I tried welding the bastards together......that worked.
5) I'm at the track 3 weeks ago and on the 2nd pass the car won't make boost. By this time the kit has been on a month or two and has about 1000 miles no it. I pull back around and the turbo is locked up. So I pull the turbo off, and find this wedged in the exhaust wheel.
Wow....check that out....a giant hunk of metal from the hot side...sweet
6) So I throw a new turbo back on the car and I'm back in business. I make about 6 passes at the track last weekend and drive it about 80 miles this week. So yesterday, after driving to a buddy's house, I notice I have a huge ass exhaust leak. I pop the hood to find this. The merge where the passenger's side header and the crossover pipe meet has cracked wide open.......that's about as cool as air borne AIDS.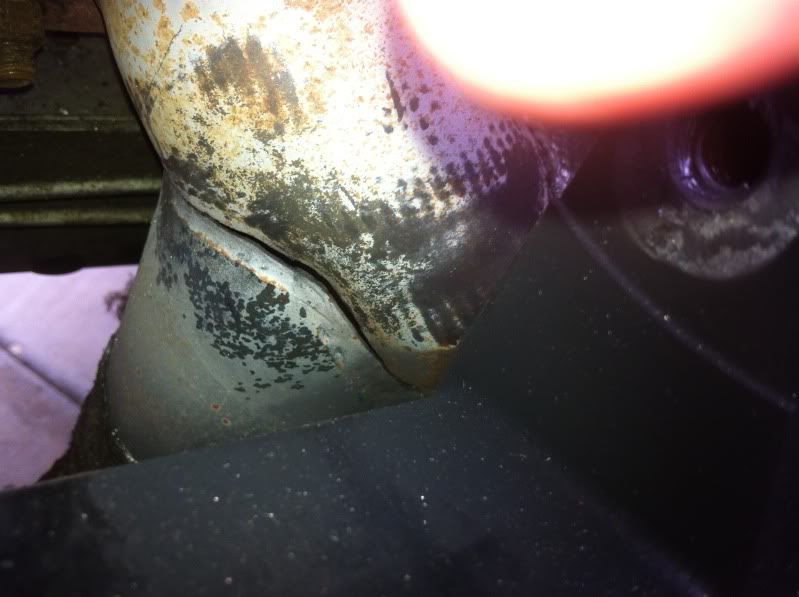 I have a big race on the 16th to go to, so I welded the header back together as best I could and it only leaks a little now. On the 17th, I'm taking this kit off with a sawzal and ordering a B&G kit.
So to summarize. On3...I hate your kit, I hate its guts, and I hope that all the bad things in life happen to you and you alone!