Discussion Starter
•
#1
•
Just finished making dyno pulls on the car today. To be honest the day was a little disappointing but overall there appears to be some left on the table if we can add more timing. Running 91oct and 100% Meth Injection and boost at 25psi the most timing we can have is 8*. Any more than this the knock detector was showing KR and would pull timing. We added 2* and made 30hp but there was knock so we dropped the timing back down.
So here are the Key Factors:
Dyno: Mustang Dyno
Boost: 25psi
Timing: 8* Total
Fuel: 91oct and 100% Meth:
Transmission: 4R70 with converter lockup.
Exhaust: 2.5" full length
=735hp
Before the end of the year we're going to use race fuel and meth then see how much HP we can get with just more timing. With just more timing we think we can get over 800hp @25psi then we can start cranking the boost up and see where the HP goes. So the 735 is a bit depressing even tho that's through the 4r70 but if we can get over 800hp with just more timing then adding boost should make some solid numbers.
ENGINE:
2V stroked to 5.1 liters 03/04 Cobra Block
Ported PI heads (p&p by HPP) The heads are ported and polished by Houston Performance.
Houston Performance Stage III Billet turbo cams.
Ported Victor Junior intake.
Intake has a 6061.com elbow and a 90mm TB.
HPX Slot style MAF
TRANSMISSION:
4R70w W/ 3000 stall Lockup and Baumann Controller.
FUEL SYSTEM:
Dual GT Supercar fuel pumps
Dual fuel delivery modules and KB boost a pump.
All braided fuel line.
TURBO KIT:
Twin 60mm Billet turbos t3/t4 .63ar.
2.5" full length exhaust with Ultra Flow muffs.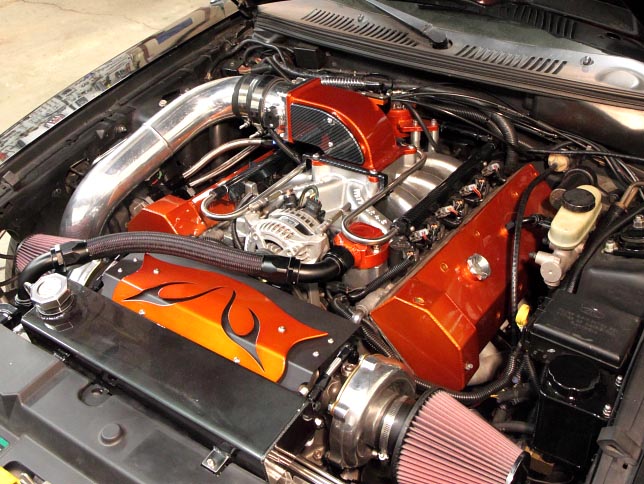 ks