Discussion Starter
•
#1
•
Howdy all, another simple mod. This may be old news but what the heck.
I hate door chimes. They serve a purpose but I like to have a door open sometimes and not be irritated. Every place I looked to figure out how to kill it ended up being 'open the steering column, find this wire, cut it. But don't cut this because that happens etc' or 'take out the cluster, pull apart the gauges to find...'.
It only takes about 5 seconds to defeat the chime, with exactly 0 damage and you can go back to stock in another 5 seconds. All you need is a small screwdriver and 1" of electrical tape.
1. Remove your ignition lock (you need the screwdriver to push in the release ball).
This is what it looks like (removed for my keyless mods).
That ball looking thing on the top is what actually hold the lock in place and is what you depress to remove it.
But what you actually want is the orange looking connector thing. That grounds when you insert your key and what tells your car to annoy you.
2. Take a piece of electrical tape and cover it.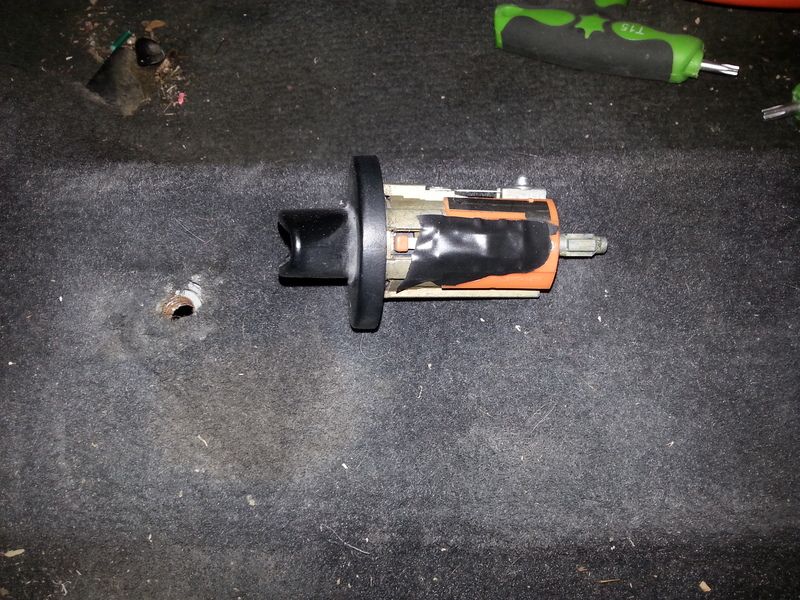 Put your lock back in. Everything will function as before, except enjoy your new ding ding dingless life.
If you ever for some reason want the car to annoy you again, just remove the tape. No damage done, no parts to replace, almost impossible to mess this one up. But if you try hard enough I'm sure you can find a way :laugh: