Discussion Starter
•
#1
•
I recently swapped the brake booster on my car to one from a '93 Cobra, and this weekend while driving I realized my brake lights didn't work. I reached under the dash and could move the switch, and when I pushed the switch all the way up, the brake lights would illuminate (in fact I could get the switch stuck in that position which means they stayed on), so the switch is good. I did research online but I'm not convinced I've got the switch installed correctly.
In order of installation on the "stud" that protrudes from the pedal, I have:
- A washer (it's actually a broken-off piece of a bracket - I think it was the original cruise control cancel switch
- The rod from the booster with the bushing installed
- The brake light switch straddling the booster rod, with electrical pins facing the driver, and the open (notched) part of the switch facing the passenger side of the car, and the full enclosed round hole facing the driver's side
- Plastic washer
- Clip
It looks like this, except the notch is facing down instead of up (this is from an early Cougar site where the switch is "upside down" compared to Fox cars):
In other words, the switch looks like this when viewed from center console: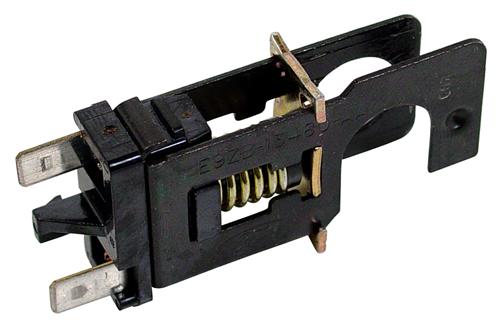 As far as I can tell, this is correct, because the purpose of the notch is to be able to pull the switch up and off the stud on the pedal without having to slide the booster rod all the way off. Is this right? Also, what's the purpose of the divot just in front of the notch? Is it supposed to line up with something on the booster pedal to keep the switch from rotating too far?
If I have it right, any ideas why the metal face of the plunger on the switch isn't being pushed in far enough by the flat surface on the booster rod? When testing the switch by hand, it only takes a small movement of the plunger to turn the lights on. It seems like there may be too much clearance between the switch and rod? This same style switch is used on lots of older Fords and I've seen some forum posts saying to try bending the face of the plunger on the switch outwards a bit to reduce the clearance, so I'll give that a try first but I'm open to other ideas.