Discussion Starter
•
#1
•
I've been traveling a lot this year and have been doing a lot of rental cars including a few new mustangs. That was bad because all the neat features... I don't have. And since I just bought yet another house buying a new car is probably going to stretch me a bit too thin so I'm doing some upgrades.
Most of the last week has been the usuals, swapping bulbs for LED's, sequential tail lights, hood struts to replace the prop rod, going the grill delete route, new projector headlights, white face gauges, footwell lighting etc. Just cosmetics.
But when I looked into having a remote starter installed, I decided the cost for what you get was too high just in parts. And really what I wanted wasn't a remote starter since the car is parked all winter and top down all summer. I wanted a bit more.
Anyway doing some google time I came across a system that does remote start, alarm, trunk lid, door locks etc, nothing unusual there, but it also does everything keyless like the new cars do.
Walk up to the car, doors unlock alarm disarms. Walk away, doors lock, alarm arms. Pretty cool. And push button ignition. Not the OMG cheesy 'put in your key, turn it to run, but DON'T start the car, then reach over to you button and start the car' junk. Actual keyless, sit down push the start button and off you go.
It's all done by a keyfob, so when you're not in the car the starter is disabled. And installing it the way I did (sorry instructions) there's no longer an ignition lock to worry about.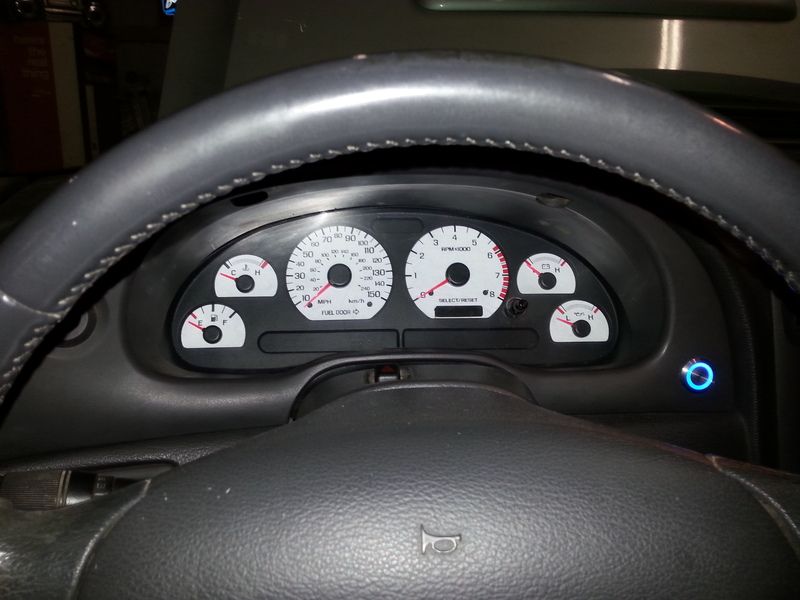 My 'magic' button on the bottom right of the cluster. The install is about as complicated as a regular remote start but there are a couple extra interior pieces to remove and 3 separate antennas to mount.
I checked with cartoys and bestbuy when I first started looking and even a basic system was going to end up being $400-600. This company, the just basic controls system is about $700 right now, but their system with the remote start added is on sale for $350. The weather here still sucks so I won't be putting it through it's paces for a little while. But in the shop it's working well
I was fairly surprised when I found it, I didn't think anyone made anything like it. Being on sale, I jumped on it. Hopefully it was a good decision!