Discussion Starter
•
#1
•
Interior
Converted to black, new carpet, everything in EXCELLENT shape, passenger seat has one small 3" seam starting to spread (vinyl), Driver set is a Corbeau and in good shape includes outdated rjs 5 paint harness, oil and temp in the dash with autometer 5" tach, NOS domelight bezel, headlamp knob, turn signal lever, Pioneer supertuner, kicker front speakers and rear 6x9's, kicker cvr 8" sub in ported pox with older pioneer 200w amp, rear mpunt battery and starter solenoid, msd 6al (6000rpm chip) under the passenger seat, console delete car, a/c delete controls and dash panels, no sun visors installed, manual windows and lock, nice seatbelts and plastic surronds, 3rd brake light added also. 50resto dash cover (looks good and permenant).
Suspension/steering/wheels
KYB agx adjustables up front and new kyb gas-a-just in the rear, 95 gt front brakes with newer brake rotor's and pads, new motorsport c springs, southside lowers, boxed stock uppers, weld in subframe connectors, aerstar axles and ranger drums with new shoes/hardware, manual rack, pinto coupler, newer rag joint/tie-rods/ball-joints, 4.10 gears and rebuilt t-lok, fresh fluid. newer u-joints, bbk cc plates, new ball joints, 98 split spokes (rashed up) painted black with polished caps decent tires
transmission
good solid rebuilt quiet t-5, pro 5.0 shifter, steel retainer, new clutch, newer throw-out, fresh fluid, prourethane mount with modified double hump cross-member, motorsport 28oz billet steel flywheel
engine
351w .040 over
truck rods/crank .020/.020
speed-pro pistons (around 9.5:1 i believe)
newer 28oz balancer
motorsport swap headers (beat-up) and flowmasters 2 chambers
fresh gt-40p's comp springs good to .550
"powered by ford" valve covers
msd billet distrib at 34*
msd blaster 2
motorcraft 8mm wires
edelbrock performer 351w
750 vac secondary
dual snorkel air cleaner mint
new alternator reverse tensioner, new waterpump, timing chain, lifters gaskets, bearings, and cam
cam is .496 intake .232 at .50 .520 exhaust .240 at .50
stock 2 core rad w/ taurus fan wired to a relay
all those new parts have less than 500 miles on them, car holds 25psi at idle 60 at cruise (not a hv pump)
motorsport oil pump drive
mac windage tray
motorpsport swap pan/pick-up
super clean all wires hidden and relocated, car runs really strong and drives great i haven't had it on any long trips but would trust it to dallas in a minute.
car has had all sand work done and is now in primer here is a quickie picture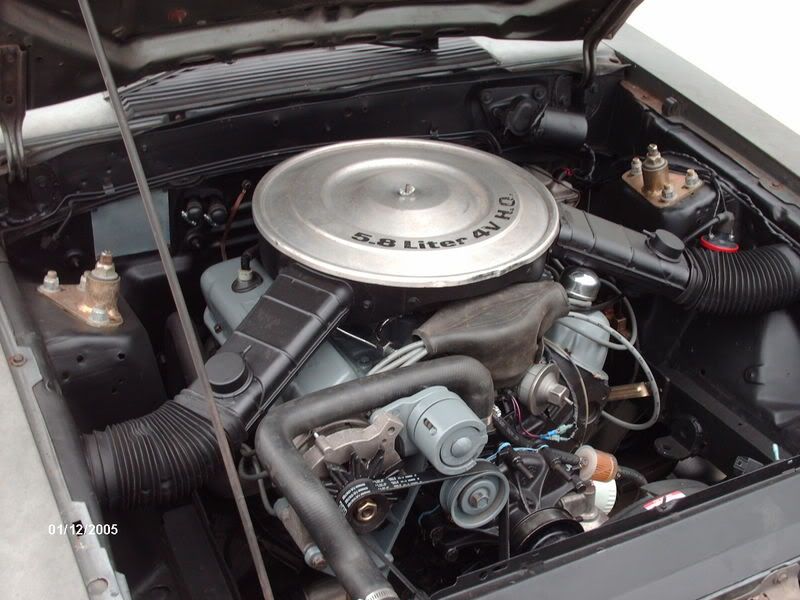 and when it has paint on her