Registered User
Join Date: Aug 2003
Location: Savannah GA
Posts: 750
Turbo choice,what do you think
---
Ok i think I have decided what turbos to run, 2x garrett t3/t4 60 trim with the .48ar exhaust
http://www.vsracing.net/catalog/prod...roducts_id=771
I used an online calculator to plot the map below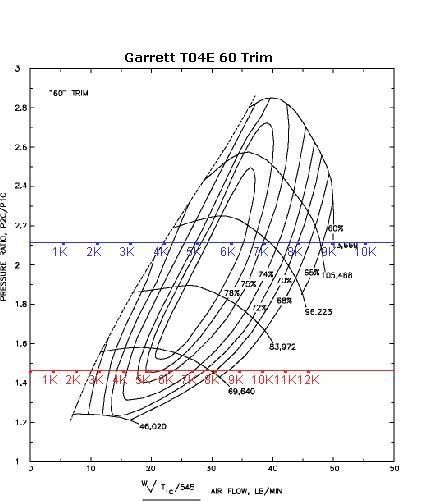 the red line is 8# and the blue line is 20#
car is a 97 GT that I will be building a built shortblock for next deployment but I figured I could run around on low boost and enjoy turbos till then.
On a different note if I decide to go bigbore at what boost level are dry sleeves good up to??
---
636rwhp/576rwtq or 852/900 RSAE corrected
"And the dynos rumbled, and God spoke 'Take thine turbos, install them upon thine car, and destroy the many ricers!'
---
Last edited by Zacharyx; 06-23-2007 at

05:04 AM

.
Registered User
Join Date: Jul 2005
Location: Bellflower, CA
Posts: 1,154
That seems to be the size on mild built twin setups. I'm debating on doing twins on my '94 Cobra to go along with my single PT-67'charged '93 LX
---
-'90 Mustang LX Coupe 5.0 SSP. 83 DSO US Gov't Issue. H/C/I Track toy