Just finished our second Chumpcar race at Nelson Ledges
---
The race was nuts, but we had a blast. Many drivers were overly aggressive and should have not been racing. Racing was dangerous at times.
The car is a 1984 Ford LTD 5.0 5 speed and our car had one of top ten fastest lap times, not bad for the big pig. We had power steering pump and hose issues along with exhaust issues that took us off the track for at least two hours after the first hour or so. I think we ended up 26th out of 80 or so cars and could have been top 10 without our issues and a few other minor issues.
Before the race we stopped for a cheesy photo op. The LT Turd in it's pre race glory.
[IMG]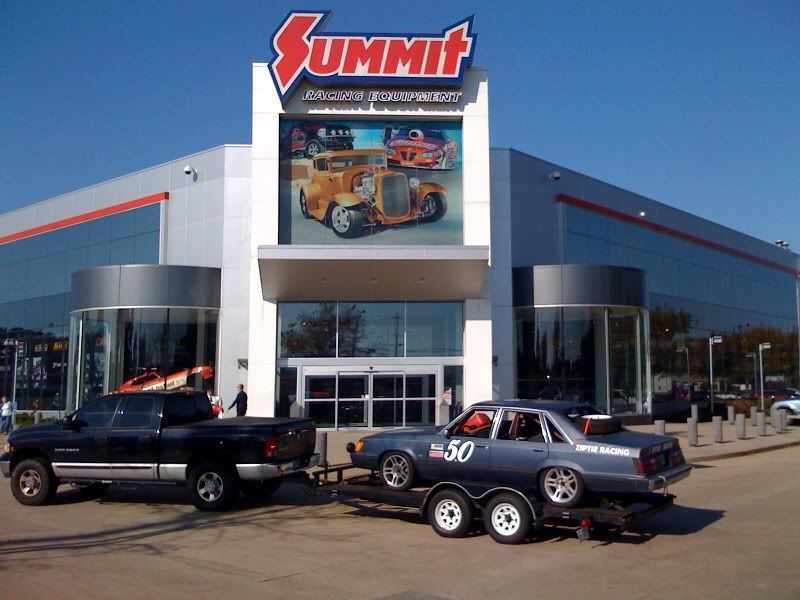 [/IMG]
After being t boned when the back end went out early in the race.
[IMG]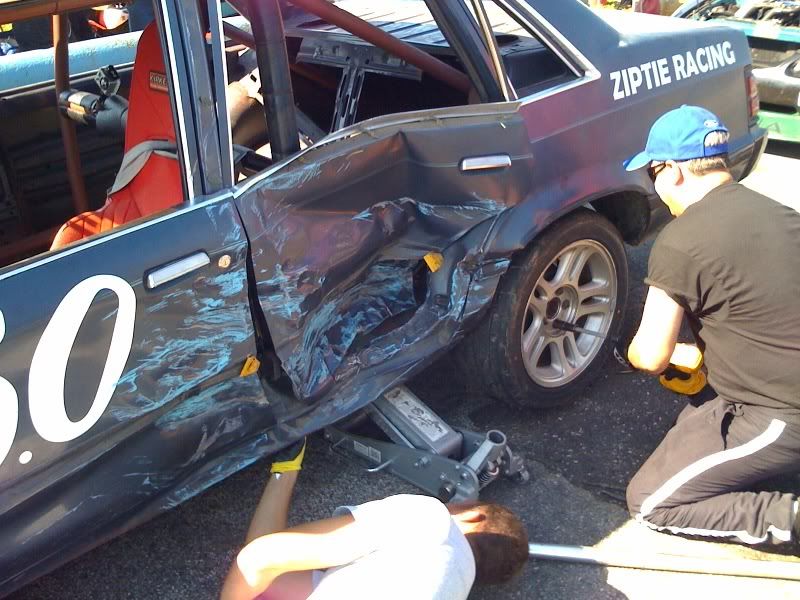 [/IMG]
[IMG]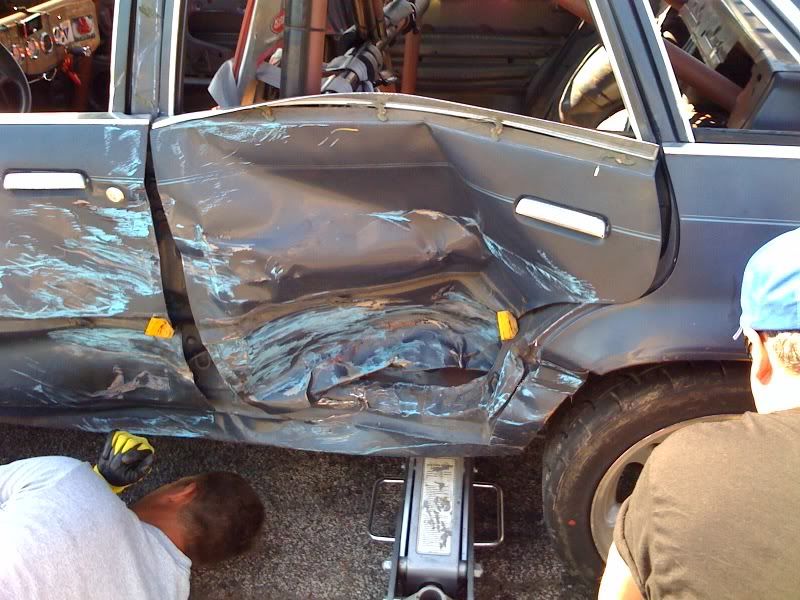 [/IMG]
Pic after I was put into the tires on the last lap of the race.
[IMG]
[/IMG]
I would say we were touched/rubbed/bumped/plowed into/etc.... At least 20 times. The chump staff loss control of the race, but we will be back and after two races it's time for us to be competitive. I'm guessing we will be at Charlotte next year when they release the 2012 schedule. Since our car car is a big heavy pig with ok power we have to race the more non technical courses.
Registered User
Join Date: Jan 2004
Location: Harrisburg, Pa.
Posts: 337
Man what a shame for your car. It looked like it was in pretty good shape before the start of the race. I saw the driver side damage during the red flag Saturday morning and pointed it out to our other team members.
We were running the white and rust (maybe that should be rust and white) early 80's Mercury Cougar, also 5.0 powered.
Man were your lights bright!! Sure had to help during the night driving. That was my first night racing and it was quite interesting. On my first night stint I hit the track and quickly was asking myself WTF did I get into.... lol After two laps and four cars crashed bringing out a full course caution I kind of settled down and figured things out. Oh yeah, that's after I twice dropped two tires off turning in early because I couldn't see the track. lol
We blew a motor at 12:30 am while running 2nd, changed it and were back on track before 3. During the motor swap we dropped the power steering pump which probably led to it's eventual failure around 6:30 am and then the shaft decintegrating around 11 am. We went back to put a new pump on but didn't have one. We ended up using a shorter belt that required shimming the alternator up to take out extra slack. We retruned for the last hour and salvaged a 15th out of it.
All in all we had a great race. It's the first I've ever run a race like this and I couldn't believe the amount of drivers that shouldn't have been on the track let alone driving a car. They were totally clueless. It sounded like that race for some reason was the exception though. Our worst damage was during the test day when the Blue BMW that ended up 2nd in the race ran one of our drivers out of track going into the carousel causing him to hit the tire wall. We did have several close calls and some minor car to car contact but nothing serious.
Great racing with you!
Raced 14 hours at Charlotte and got our rear bumper tapped once. I think nl was too narrow for the amount of cars then add the idiots.

Nice racing with you also, your car was very fast!

For next year I will be adding more power and improve the suspension. No plans of being passed on any straight lol.

Our lights were bright, but kind of narrow. Bought 4 Northern tools fog lights with 100w h3 bulbs then bought 2 sets of 35w h3 hid light kits for a grand total of about 110 bucks. Was real easy to convert the bulbs to fit the housing. I will use the same cheap hid's for our next race, but will use a better housing to get a wider beam. Hella 500's are supposed to do well, but out of my range right now to hack them up.

Car was solid and I got it for my daughter to use in HS. When she blew the hg I had plans to make it a nice fast daily till my buddy mentioned demolition derby and then I decided to do Chumps.

I watched your car hoping you guys would win and you guys were all very respectful drivers. Too bad about your motor, I think you would have won. What rpm were you shifting at? I limited the car to 5k to keep the motor together. Not bad for a junk yard motor. Also pulled the 3.55's and could only find 2.73's
I should mention. When we got to the track they were doing day practice and there was a green 944 that looked fast as hell and thought we were going to be outgunned again like at Charlotte till your white beauty hit the track and then I felt a lot better. We were not as fast as you guys, but it gave us hope. Ended up the 944 was slow.
Registered User
Join Date: Jan 2004
Location: Harrisburg, Pa.
Posts: 337
Thanks for the comment about us being respectful drivers. We probably had at least 10 people come to us in the paddock and comment about how courteous we were. The team was pretty proud of that.

I don't know that I can put much blame on the track for the terrible driving I witnessed from MANY drivers. It looked to me that a lot of those drivers didn't have much or maybe any racing experience. I commented to the rest of my team that I was shocked I only had 3 instances of contact through my almost 7 hours of driving. I did witness multiple accidents by othe cars though.

We also thought if the motor didn't go we'd have been right up there for the lead. We were runing first at the safety break even thought the 2nd and 3rd place cars were able to go 2 driver stints without taking fuel giving them at least a 5 minute advantage up until the safety break. During the motor swap we dropped the power steering pump and it hit the ground. We didn't see any damage but at 6:30 Sunday am the power steering went out. The pump shaft eventually self destructed taking the serpentine belt with it, causing the motor to overheat. We were down for about 30 minutes fitting a shorter belt for the waterpump and alternator. So in total we were down for about 3 hours. I don't think the power steering would have crapped out if it hadn't been dropped during the motor swap.

I was a fill in driver for the team, one of their regular drivers couldn't make it. I know the rev limiter was set at 6,000 rpms but I don't know what the other guys were shifting at. I was shifting at 5,500 but hitting the rev limiter before the kink. I would pedal a little instead of shifting to 5th. We were running 3.73's BTW.

Two of us ran an identical best lap of a 1:21.0 giving us the second fastest race lap, one of our other drivers was just slightly behind that with the fourth being maybe a second off of that. So all in all we had 4 relatively close matched drivers.

That Cougar was balanced incredibly well for being all stock suspension. The test day was my first time driving the car and I was pleasantly surprised.
Registered User
Join Date: Oct 2011
Location: Michigan
Posts: 22
You are right, The race was out of control compared to the LeMons race in 2009.
Here's a video r our car being chased by a neon. He says it has a 2.0, but my bud is adamant that it has a 2.4


Registered User
Join Date: Aug 2000
Location: Houston/Denton, TX
Posts: 956
Damn, that much bumping and rubbing? I've heard Chump Car was bad, but damn!

I haven't touched another car in my 5 Lemons races!
---
1989 GT- Prowler Orange Pearl
Engine:331, AFR 185, FTI cam, 90mm LMAF/30 lb, TFS-R intake, BBK LT's, X-pipe, Spintech mufflers
Suspension:MM: TA, PHB, Rear LCA's, C/C Plates, H&R Race Springs, Bilstein HD's, SFC's, Moser 28 splines, 3.73's, Cobra brakes,10th Anniv. Cobra wheels