1983 mustang for sale Looks like 85/86
---
1983 ford mustang for sale. Looks like a 85/86 gt hatch. Car needs work drives fine as i use it as my daily driver. Car runs strong. Should be a mid 13 to low 13 second car as it sits. Has rebuilt motor with lumpy cam, edelbrock rpm intake 650 holley dp, msd 6al, msd distributor w/ mech advance.
Electric fan,
good working t5 w king cobra clutch and adjustable clutch cable and quadrant.
aluminum driveshaft
8.8 with 3:73's
Mac uca's and lca's
upper torque box reinforcements
Car is a good reliable running car
Now the problems
Only the speedo works..everything else does not. Not sure why.
Has a mechanical oil pressure gauge (that does not read properly)
and a mechanical temp gauge (works fine) both mounted on pillar.
the hood flew up on me not too long ago so the cowl is bent
had some rust spots and a decent size hack bondo job on the rear quarter which i removed then sprayed it with primer to take care of later.
Red/black interior.
Good car to build up better cause it's a 83 and emissions is no issue in most states. I want 2500.00 for it..If not i'll keep it. Just that now i need a truck since i am a new home owner and the home depot runs in the mustang are not too fun. Here are some crappy pics...i can send video of the car running..driving...everything. Just let me know what you want and i'll accomodate your needs.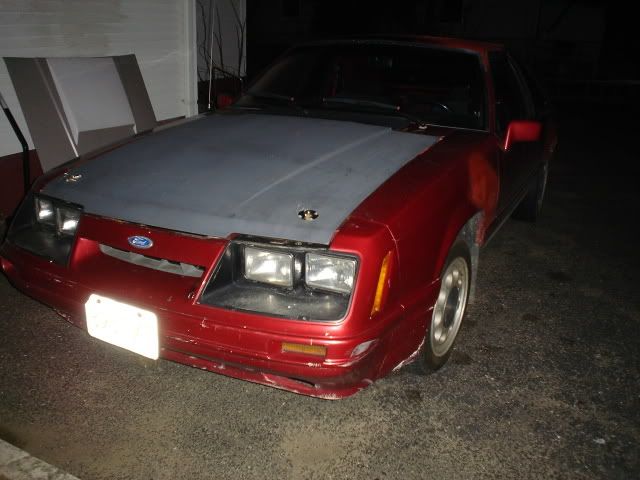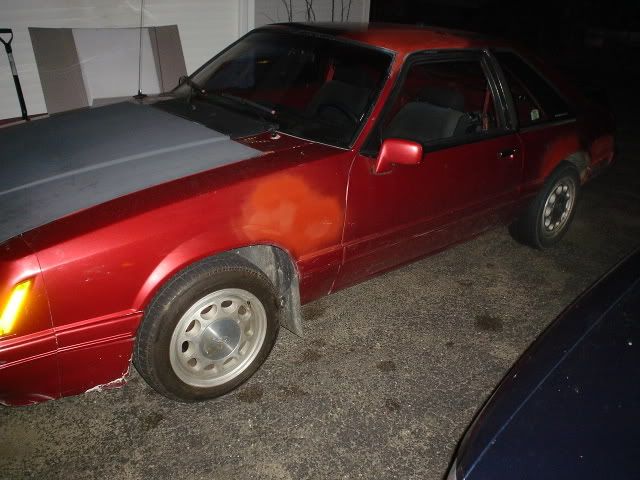 Hey can u send pics of enigine and video as well.U mentioned motor was rebuilt what type pistons and what heads are on it stock
[email protected]
thank u
No clue on what type of pistons was used to rebuild. Car has good power. Looks like stock heads but they went with stud mount roller tip rockers (crane) Has a lumpy cam that comes on real nice at 2500 all the way to 5700. Good power. I have no doubt i will do mid to low 13's but i don't want to take it to the track yet as it is my only car.
here is a engine pic. i'll work on the video.
thanks I will be in conn for two weeks due to my job leave monday morn.If the car is still available i will meet up with u to buy the first week of may