Registered User
Join Date: Oct 2002
Location: Lawrence, KS / Bettendorf, IA
Posts: 469
86 GT hatch project
---
I acquired this car on a trade, and don't know much besides what I'm about to post.
It's ugly, it's beat up, and it needs help. It needs it inside and out, and basically needs someone thats going to start from the ground up. The good thing is, from what I can tell it doesn't have any rust.
The door handles need to be replaced, window motors, rear hatch latch needs to be replaced, and I'm sure lots of other things. Right now it looks like someone tried putting the black primer on top of what looks like an older grey metallic paint job, and its chipping and peeling, so it will need to be sanded down to the metal and done correctly.
The good news is this thing starts right up and runs and drives. It has a 4spd manual trans for whatever reason, but the clutch feels great. The motor sounds real healthy and revs just fine without any strange noises or misses or anything like that.
Inside the only guages that actually seem to work correctly are the oil pressure, tach, and speedo. The rest dont work, or are inaccurate. The car has some kind of long tube headers on it, no cats, and goes straight into what look like flowmasters of some kind. It sounds pretty good... not loud, but not quiet.
The car also looks like it has been in a front end collision at some point because there are crinkles in front of the strut towers (see the picture)
Past all of this, I dont know much about the car. Mileage is unknown, I don't know if the rear end is different, etc, etc.
If you have questions feel free to ask, I do have a title for it... just havn't had it put in my name yet, but that will take a week if you're seriously interested. Looking to get
$1500
for this thing. I live in Kansas City, and would recommend that it be trailered. The only time I've ever driven it was about 12 miles home from the impound lot. Apparently the cops dont like an untagged car sitting out on the street. Bastards.
PM me if you have any questions or are interested. Here's some pictures: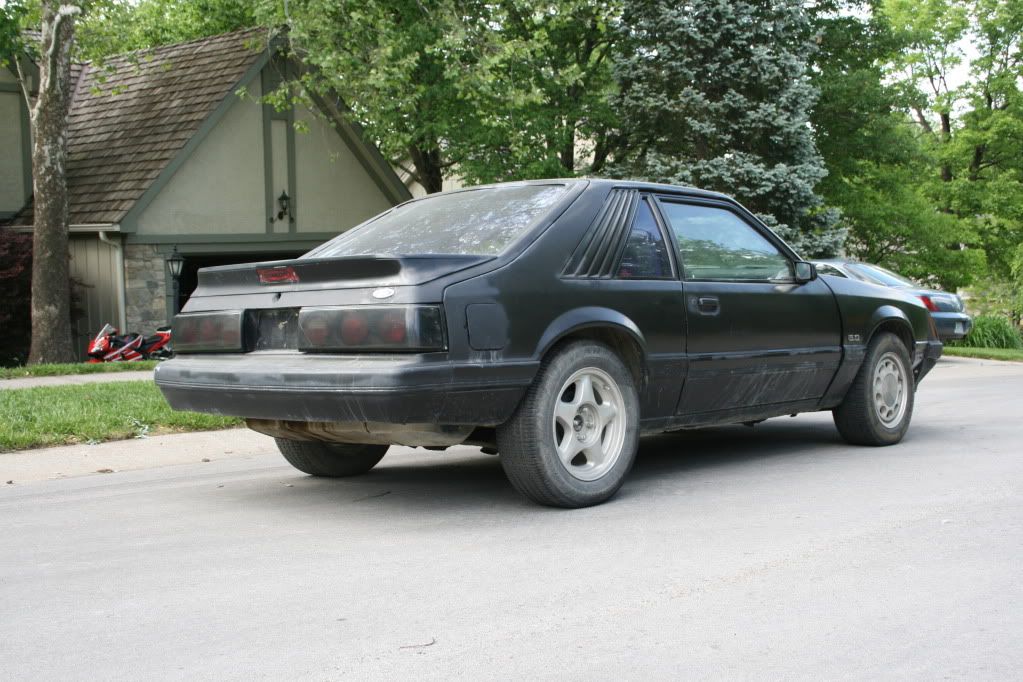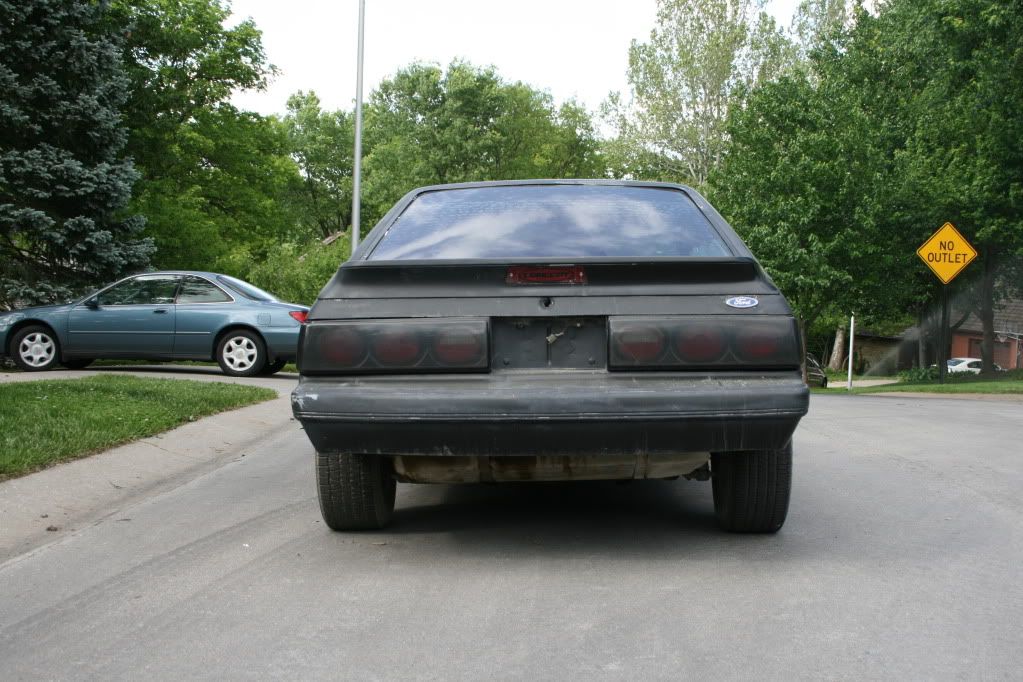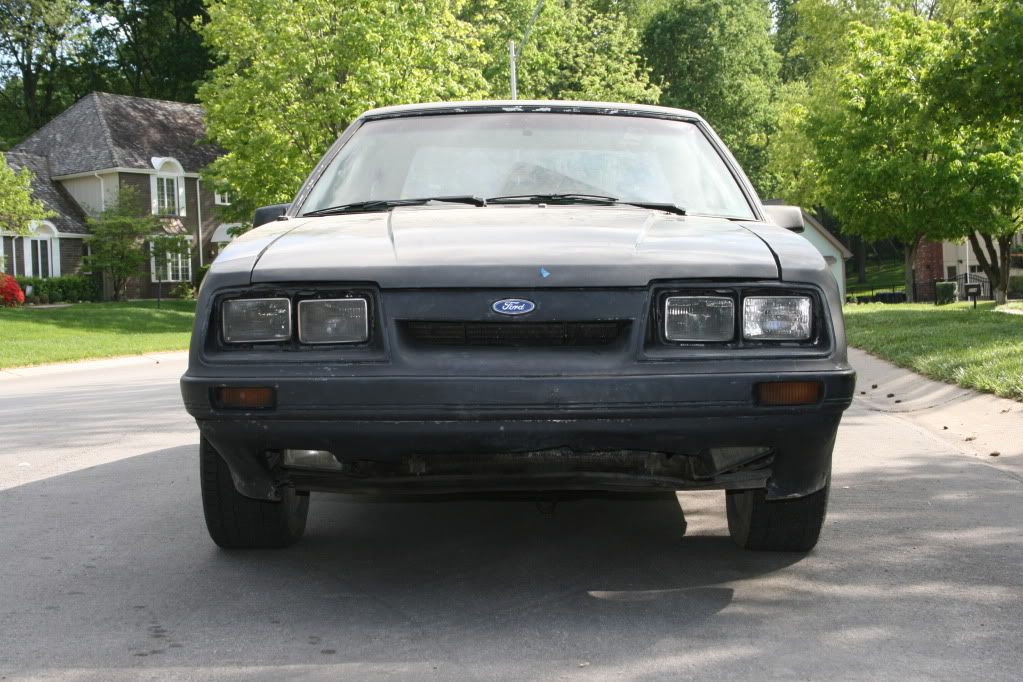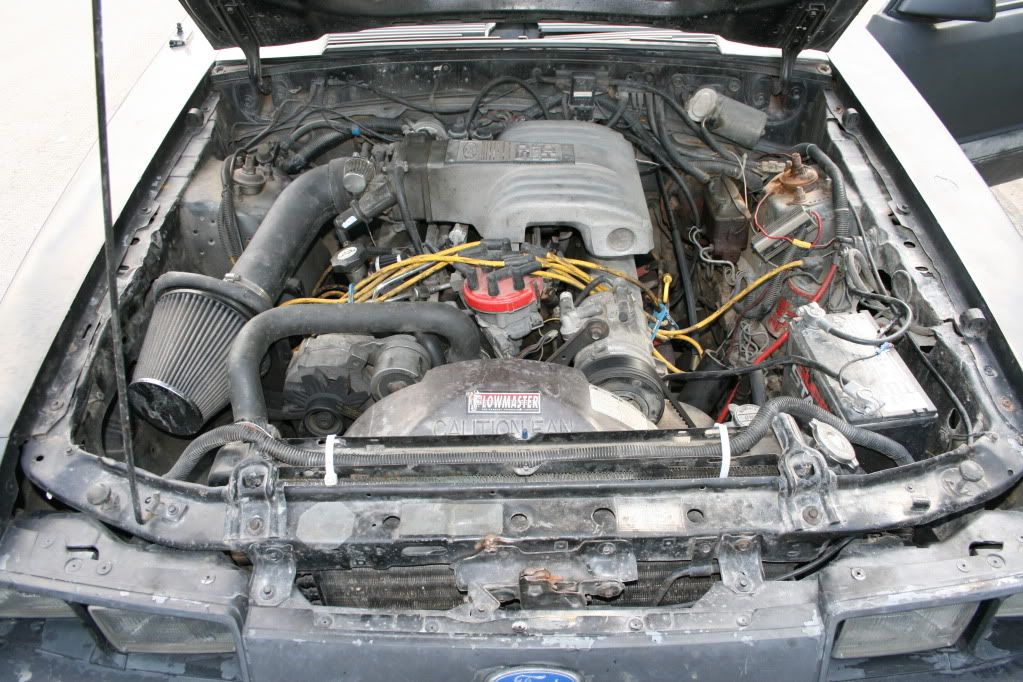 ---
'94 Cobra #2151 and 1 of 208 rio red with tan cloth interior.
E303, ported heads, bolt ons, MAC shorties, o/r H, and catback. PRO-M maf, bbk TB, a9l, and 4.10s, MGW, 18" black bullitts, H&R SS's, and some more cool ####.
278rwhp // 308rwtq

To view links or images in signatures your post count must be 10 or greater. You currently have 0 posts.