1970 Mach 1 with Tremec TKO600 and Modified Suspension - Cleveland, OH
---
Lots of photos here
1970 Ford Mustang Mach 1. Car is located in Cleveland, OH. Original RUST FREE sheet metal car from California. Never has seen snow, salt, and has been kept dry in the 6 years I've owned it. I built this car to be a great driving road car that loves to corner. It retains its original 351 Windsor engine and has about 9000 miles on a rebuild. The transmission is a 5-speed Tremec TKO600 manual that was brand new at time-of-install. I have the rest of the original drivetrain boxed up. The original FMX automatic transmission had about 7000 miles on a rebuild before I swapped it out. I used all new components and a cable actuated clutch. The only used part is an aluminum drive shaft from an Ford Police Interceptor. I replaced the radiator with a large aluminum unit rated for up to 500 horsepower.
The suspension has been completely upgraded with brand new name-brand components. The front end features Global West tubular upper and lower control arms, Opentracker roller spring perches, Rosehill Performance solid adjustable strut rods, KYB GR2 shocks, Mustangs Plus 620lb lowering springs, and TRW tie-rod ends and sway bar links. The rear suspension has 5-leaf reverse-eye springs and Global West spring shackles with serviceable bushings.
The car is equipped with power steering and has a Flaming River steering gearbox, Opentracker roller idler arm, and Global West solid tie rod adjustment sleeves. These are all a tremendous improvement over the original design.
The body is original sheet metal and is RUST FREE. The hood and front valance have been repainted recently and show very well. The rest of the car has been resprayed in the past and shows signs of wear, and I've touched up any large chips to the best of my ability. It shines up very well. I would call it a 5-footer.
The interior was new as of 2005. There is a fold-down rear seat that came from the factory. The sail panels have not been replaced and are worn. I added a 13" Grant steering wheel. I have the original rim-blow wheel in a box.
The only thing on this car that doesn't work is the horn. I have not been able to trace the problem. I replaced the steering column harness but to no avail. I don't know if there is a broken wire somewhere or if the problem lies in my steering wheel adapter.
The car has power drum brakes and I will include a kit to mount the front 13" brake rotors from a 2003/4 Mustang Cobra. I will also include brand new rotors, calipers, and mounting brackets. Installing this setup will require 17" or larger wheels. Other extras include a new-in-box grille and extra misc. trim pieces. I also have a Marti report and a reproduction door tag.
I'm asking $23,000 or best offer. I'm eager to get this out of my garage for other things.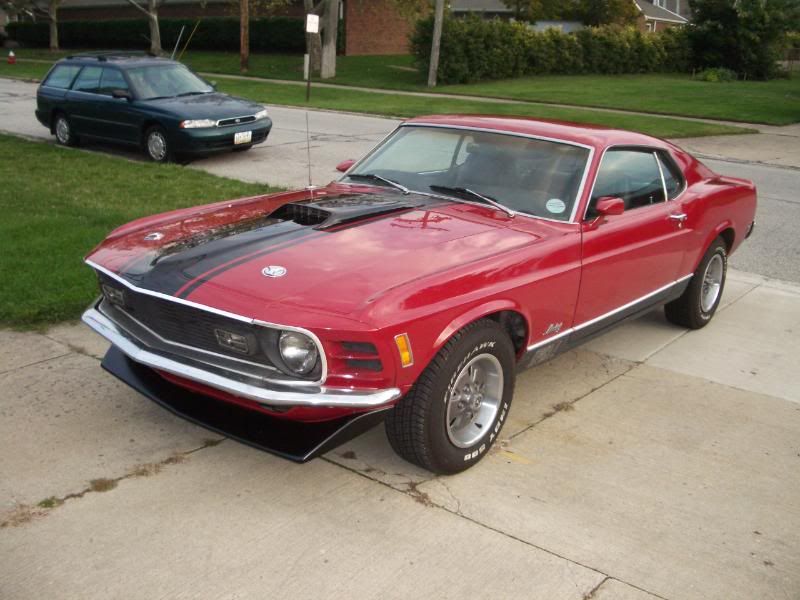 ---
Last edited by wantahertzdonut; 09-08-2011 at

09:44 AM

.
Car is relisted but I will end the auction for anyone who chooses to buy outside of ebay.
Ford : Mustang | eBay
I'll make a good deal for someone. Not many cars that are this solid for sale out there.
The car is still available and the auction ends today. If there is no sale I will relist Tuesday. I'll still happily end the auction for anyone who shows up and wishes to buy outside of ebay.
Registered User
Join Date: Nov 1999
Location: Janesville, WI
Posts: 2,474
Wish it were a Shaker car.
Quote:
Wish it were a Shaker car.
You're welcome to buy it and make it one!
I took a deposit for the car tonight, and while not final, I'm considering it sold.