Registered User
Join Date: Oct 2007
Location: addis,La
Posts: 757
real clean 67 mustang coupe
---
thinking of selling my 67 mustang coupe. The car has the orginal 289 v-8 automatic trans, p/s,a/c disk brakes. i just added in october a new battery,alumunum radiator,chrome powermaster alternator,rear u-joints,deep alumunum trans pan. The car has a kenwood sound system and sounds great. The car turns heads and gets thumbs up everytime i pull it out which is not to often i think i might have pulled the car out 6-8 times last year. only performance upgrade is exhaust which sounds great. reason for selling i want a 03 mustang cobra bad and dont have room for both car in my garage. im asking 13000 for the car but will consider reasonable offers.would look at trades for a 03 cobra and i would put some cash on top for the right car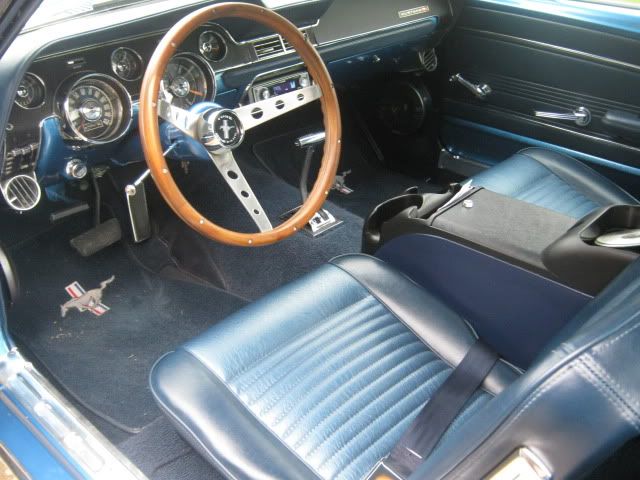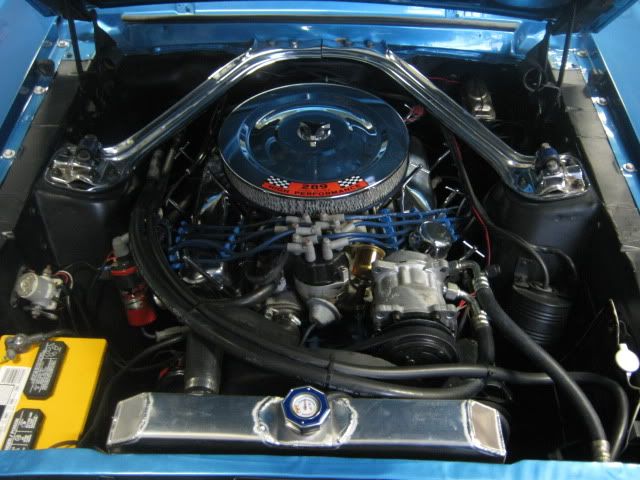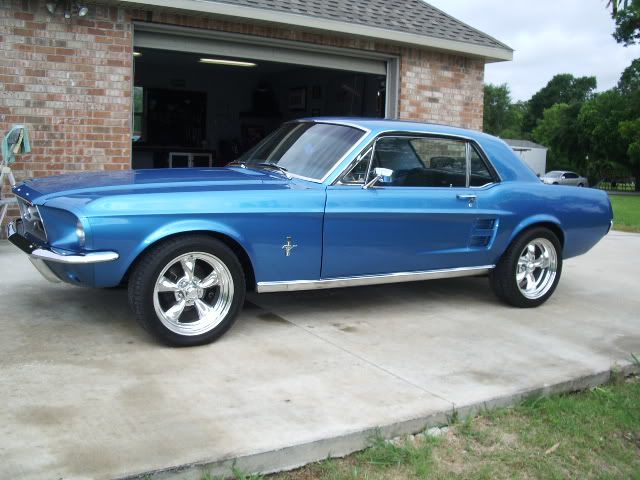 Registered User
Join Date: May 2003
Location: maryland 21042
Posts: 278
I've played with the cobra's and love my 67's. I would stick
with it. You get more attention than an 03-04. I think you
would regret getting rid of it. My $.02. Good luck
---
one stang two stang three stang four............
Registered User
Join Date: Dec 2004
Location: Wayne, NJ
Posts: 364
Yea, that thing is too clean to get rid of, lol, I can only dream of having mine where your's is at one day. Don't get me wrong, I love my blown 96 cobra, but there's just something special about a gorgeous old classic that a modern car can't touch. Good luck either way!
---
03 Saleen S281SC #159
Green 67 Coupe - under going "restoration"
Laser Red 96 Cobra - Vortech V2,Pro-Chamber, Borla side exhaust *FOR SALE*
Sold: 88 Lx convertible 5spd Turbo'd 2.3L & 94 Mustang GT
Registered User
Join Date: Jun 2009
Location: lafayette
Posts: 23
Registered User
Join Date: Jan 2011
Location: quebec
Posts: 32
Registered User
Join Date: Nov 1999
Location: Bay Area, CA
Posts: 7,118
Still available?
---
Stangless
Registered User
Join Date: Mar 2011
Location: Arizona
Posts: 7
I would keep the old school. That is a head turner...Yeah the Cobra turns heads, but only to those that know. The old school mustangs get attention from everyone. Good luck with the sale if thats what you want...I am going the opposite, selling my second Cobra to get a 67 fastback. Hopefully I will have enough funds to drop a wrecked 2003 Cobra engine in it and have the best of both worlds
Registered User
Join Date: Feb 2000
Location: Memphis,TN
Posts: 316
What kind of rims are those? What are the sizes front and back? Love the look, reason for my inquiry.

Thanks
---
'91 Mustang GT 400cid. 106mm Precision.
Registered User
Join Date: Dec 2010
Location: TX
Posts: 12
Clean 67 !!!
---
92 Coupe, Bimini Blue.
89 LX Turbocharged ,302,fac cam,AOD.
[email protected]
1.32 60',fac struts,shocks,coil springs,Scarlet Red.
!!Drag Car!! SUPER CLEAN,50k orig miles!
4-SALE 4-SALE
Registered User
Join Date: Oct 2007
Location: addis,La
Posts: 757
sorry guys the car has been sold for about a year now