Registered User
Join Date: Nov 1999
Location: Where the Navy sends me...
Posts: 3,732
Quote:
Unless you had them widened, those are 17x8" wheels from a '98 Cobra, not 17x9" Cobra R wheels.
Registered User
Join Date: Jun 2002
Location: South Bend, Indiana
Posts: 5,117
Quote:
Thanks!
Yes, it was featured in 5.0&SF, and also appeared in MM&FF's event coverage of the Fabulous Fords Forever show at Knott's Berry Farm. It's in a Mustang calendar this year(browntrout.com...photos by Ron Kimball), as well with the old O.Z. Racing wheels. It's currently running a set of 18" Polished True Forged Victories.
Awesome! So I don't change the topic, got a link to a pic with the True Forgeds?
---
Kevin
Registered User
Join Date: Feb 2001
Location: NorCal
Posts: 196
---
-Ross
1988 GT (April '04 5.0&SF Feature | Winter '12 MM&FF '79-'93 Mustang Performance Cover)
1998 Cobra (Bright Atlantic Blue)
2012 Shelby GT500 SVTPP (Kona Blue)
Registered User
Join Date: Nov 2006
Location: LaVerne, Ca
Posts: 144
Here is my 1988 Coupe. Has Ford Motorsport R's. The fronts are the R58 (5.95 bs) and the rears are M179 (6.42 bs) which haven't been available for years. Tires are Nitto 555 - 275/40/17 front and rear. Has stock spindles, stock-length axles with 3/4" wheel spacers. Springs are H&R "Race" with all of the isolators removed.
---
Alex Lacy - '88 Mustang Coupe
Registered User
Join Date: Jan 2003
Location: Southern Maryland
Posts: 91
My Ride
---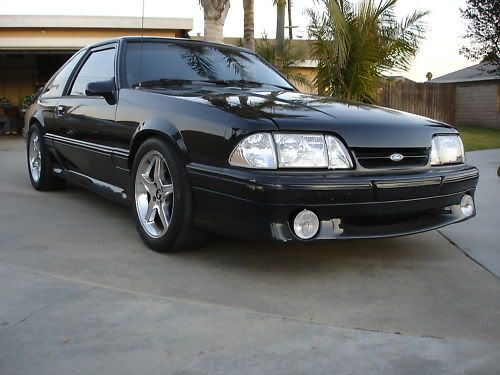 ---
Drive it like you stole it!
Registered User
Join Date: Jun 2010
Location: Florida
Posts: 106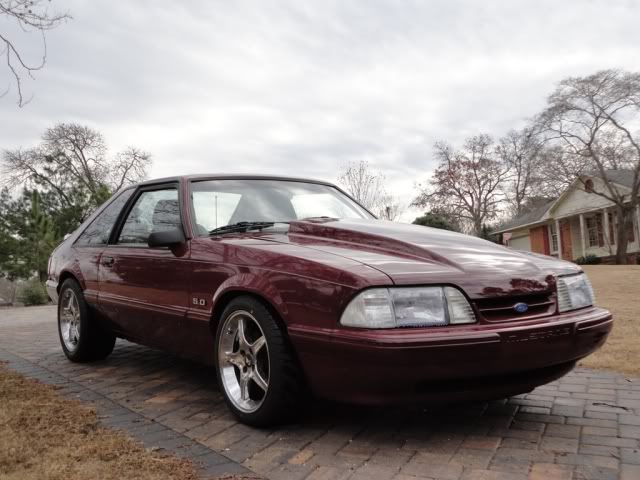 Quote:
David88 were you get them rims? I want some in chrome with the red R like those.
Sorry for the delay, I just saw this.
I bought these replica rims off Ebay - $400 shipped new for the set. First thing I did was have them checked to make certain that they were true. They were true, no issues.
They came with some cheap centercaps, so I went up to Mustangs Unlimited and bought the Cobra R centercaps - those were $200 for the set.
Ran 245 maxxis tires on them for the street. Had Nitto 275 DRs on back, but they were terrible. The Maxxis street tires launched better.
I sold these wheels and switched to Draglights.
Recently, I ugraded to 5 lug, and went to 18" ADR M-Classics for the street, and Weld ProStars for the track.
Registered User
Join Date: Sep 2003
Location: Almost Philly
Posts: 1,800
I don't want to be left out of this . . . . old pic complete with brake dust.
---
XBL - ReefBlue

Built on 8-18-1993 exterior-PD, interior-D6. 1 of 1,316.
Registered User
Join Date: Nov 2005
Location: peoria,il
Posts: 402
heres mine
Registered User
Join Date: Jan 2008
Location: baltimore MD
Posts: 388
Registered User
Join Date: Jan 2011
Location: Louisville, KY
Posts: 85
Here is mine
---
1990 Mustang GT
Quote:
Originally Posted by Flyinby
haters are what made mustang feared