Registered User
Join Date: Mar 2006
Location: Nashville TN
Posts: 190
97 powerstroke crew cab short bed 4x4 $7500
---
I got a nice 4 door 97 ford F 250 with the powerstroke it is an Auto that shifts nice and it's a 4x4. It only has 145K miles on it. This truck is white with tan inside. It has all the power options and the XLT package.There is a nice pioneer CD player and an amp with a 10" Kicker sub and pioneer door speekers to pump out the tunes.There are no rips or tears in the seats the the truck is clean for its age.the windows are tinted ,has a gooseneck hook up,but it has not been used alot.The only mods to the engine are a cold air intake and a staight pipe exhust,and a $500 chip custom chip I just bought from DP Tuner it is awsome. it made it into a whole new truck. The truck does have a clear TN Rebuilt Title ,it was hit in the front lightly .It runs and drives perfect. I am looking to sell or I will trade for a Early Bronco of THE SAME VALUE. I also have a nice Car huler that I am selling too. I can make a pakage deal.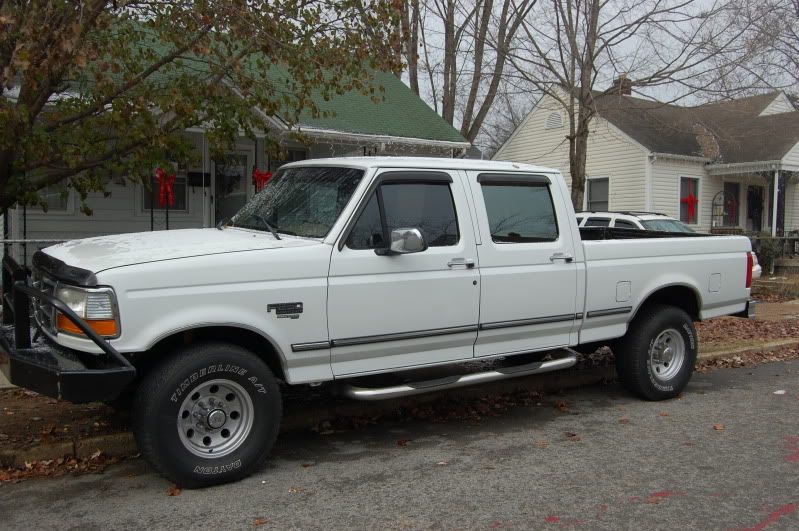 ---
A veteran-whether active duty,reserve,national guard or retired-is someone who, at one point in their life,wrote a blank check made payable to"The United States of America",for an amount of "up to and including my life."-That is Honor.
Registered User
Join Date: Feb 2009
Location: Tiverton, Rhode Island
Posts: 483
Wow, I want this truck pretty badly. Tempted to off my car for this...
---
2001 Mustang GT: 70k miles, BBK LT's, VRS X and Magnapacks, typical bolt ons
2001 Ford F250 7.3 Diesel Platinum Edition CCSB: 9 inch lift on 38's, Built Tranny, Stage 1 Injectors, Tuner, Straight 4 inch blah blah blah
Registered User
Join Date: Sep 2010
Location: indiana
Posts: 2
buy truck
---
Call or text me at 270 570 3073 if still for sale thanks
Registered User
Join Date: Dec 2001
Location: INDIANA
Posts: 293
I have a 96 Bronco XLT , Blue with gray leather , nice , runs great , automatic, with 351 . Loaded . Im in Indiana
Ballman32@aol.com