Registered User
Join Date: Feb 2008
Location: california
Posts: 136
1993 mustang coupe 8 second 1/4 20 mpg clean !
---
SERIOUS INQUIRES ONLY CARS VERY CLEAN
1993 Ford Mustang Coupe 900 Hp Turbocharged 2jz street car. This car was built from the ground up to be a killer street car ( Has Been 8.92 @ 149.9 on a 75 shot 9.29 @ 145 boost only 1.30 60 ft) While still maintaining excellent streetability. Has working headlights,taillights,turn signals,High-low beams,fuel gauge,full sound system,Tilt wheel, Power windows, Power door locks,everything but AC. The car is quiet,tame, and gets 16-20 mpg. But when you turn the boost controller on it gets very nasty,Other wise it drives like a stock six cylinder. Car comes with two intake setups. One is a ram air with a cut headlight and another is a full street filterd setup with headlight in place. Take the parachute off and put the stock wheels on and it looks and sounds 100 percent stock but runs 8s ! The car is setup to run its self at the track you press one button ( transbrake ) release it and it drives its self, shifts itself too ( air shifted on c02 through the aem computer). Im sure im missing a ton of stuff please call anytime with any and all questions.
661-233-3069
My names dustin. As with all used items the car is being sold as is. Buyers outside of usa are to pay for any additional shipping charges. Has Clear title, current smog, and registration and insurance. open to trades trade value of 25k or higher
Engine specs
Jdm 2jz-gte 50,000 mile engine with ARP Head studs
Ported stock intake manifold
Accufab 75mm Mustang T/B
Ls1 Ignition Coil Conversion
3 Inch Intercooler piping
Precision 1k hp intercooler
Precision 7675 Billet Turbo
4 inch Custom Down pipe and exhaust
Tial 44mm Wastegate
Tial 50mm Bov
Braced turbo manifold / ported / welded
Dual Intake setups as mentioned
Billet Cam Tensioner Boostlogic
Short-Belted
New alternator
new water pump
Custom aluminum Catch cans
DriveTrain
ATI 1100 HP Built th400 With Pro Brake
UCC 9 Inch Turbo Converter From Lenny
Custom Chromeoly driveshaft with 1350 joints
Drive shaft loop
Boostwerx Billet Trans adapter
Billet flex adapter
Precesion Billet Air shifter
Custom B & M Trans cooler with fans and cooling duct Trans never gets over 180 -6 lines
Fully Built 8.8 33 spine aluminum spool
3.55 pro gears
33 spine Strange axles
Mark willams 11/16's upgraded pro studs
C clip eliminator kit
Fully welded housing
Girdle
Suspension/Chassis
Tig welded 8.50 certed chassis
Current RCA belts
Wolfe Double adjustable uppers
Wolfe adjustable lowers
wolfe Anti roll Bar
Racecraft Lower Controll arm brackets
Welded Tq boxes/ tied into chassis
Through the floor subframe connectors
Qa1 adjustable rear struts coilovers 12 ways
Wolfe Parachute with stroud chute
D&D Tubular K member with Poly engine mounts
D&D Tubular A arms
Maxium Caster and Camber Plates
Strange adjustable Front Struts
14 -130 coil overs with front locater kit
Flaming river Manual rack
Strange Manual brake booster
Aerospace Billet Rear brakes Custom Lines
ARP front extended wheel studs
Mark willams rear wheel studs
Stroud window net
Brand New Weld Draglite wheels 15x 10s with 15x4s for the front
Battle box rear plates
2 kirkey pro drag seats
Top side Billet Parachute handle and hanger
Fuel System
Custom Fuel Hanger with dual aeromotive 340 Pumps
Dual -8 fuel lines
-10 dual feed rail
dual - 6 return setup
Aeromotive billet 1000 regulator
-8 return line
Precision 1600 injectors
Tuned On e-85 corn ethanol gets 16-21 mpg on e85
Electronics
AEM EMS Stand Alone Engine Management
AMS NLR 1000 C02 Boost Controller
AEM Injector Driver Box
Trans Brake Kill Switch
Line Lock Kill Switch
Racepack UDX Dash with all sensors and gauges working fuel level,trans temp,tach,turnsignals,over heat functions,Water temp, etc etc
hurst roll controller
MISC/Stero
Complete Black Interior ( NICE )
all windows work electric
Nice black carpet
all panels like new
Custom Rear seat delete kit carpet
Full Sound System
JL audio 10 inch sub
Sony 770 5 channel amp
MB quart door speakers
Pioneer 6x9 rears
Polk audio tweeters
Full sound system is run off an i pod with a line driver and a volume nob super clean
MB quart crossovers
Kuzon CAP
Race craft removable tilt steering wheel
Carbon fiber interior work ( nice )
Aluminum 8.8 rear end bushings
Nitrous Express Dry shot 75 hp computer controlled
Videos
These videos are all without the nitrous activated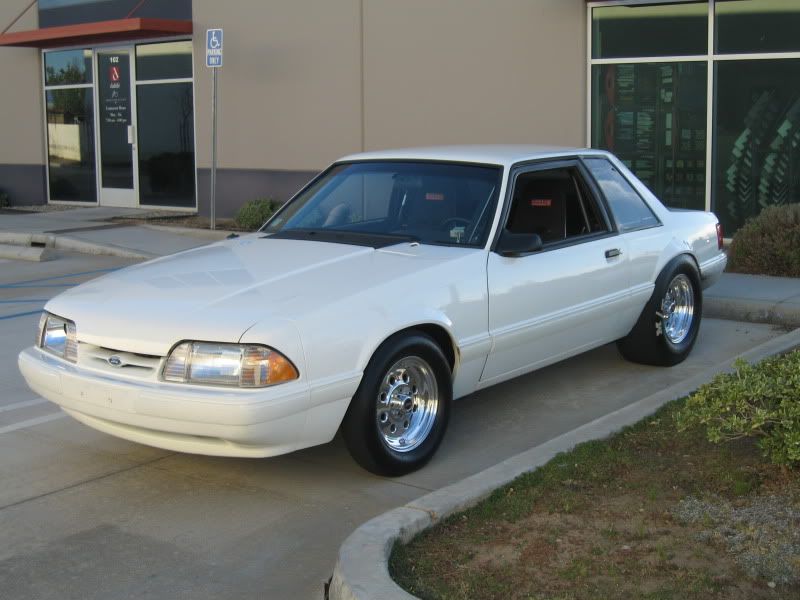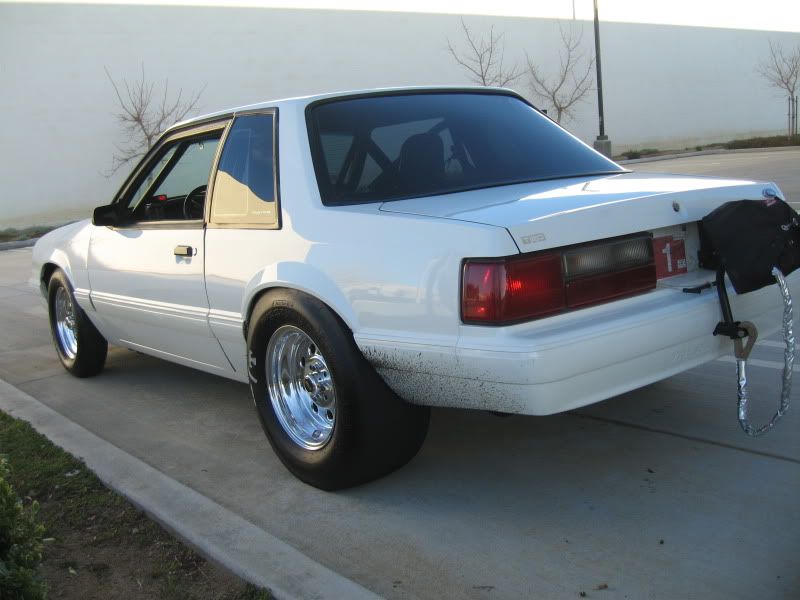 Registered User
Join Date: Sep 2011
Location: Monroe Ga
Posts: 103
GOOD GOD!!!!!!!!!!!!!!!!!!!
Registered User
Join Date: Oct 2005
Location: Westchester New York
Posts: 1,420
Love it!!!
---
10 sec 2001 Bullitt
5.0 Mustang & Super Fords Magazine - October 2011 Feature Car
Registered User
Join Date: Mar 2006
Location: michigan
Posts: 692
Man I would consider trading my 363ci 88mm notch for this just to have something different!!! Love this car
Registered User
Join Date: Jun 2012
Location: Bossier City, La
Posts: 96
This Car is absolutely NASTY!! I want it !!
Registered User
Join Date: Sep 2003
Location: North Carolina
Posts: 110
Mother of God!!!
---
1990 Mustang GT
347ci, Vortech S-Trim 522rwhp / 497rwtq on 8psi
Featured in MM&FF December 2010
Registered User
Join Date: Dec 2002
Location: CONCORD,CA -BAY AREA
Posts: 13,761
Nice Coupe, I don't know if it sold yet or if someone is interested in it from east coast, someone posted your Coupe on uShip.com looking for shipping quotes.
Registered User
Join Date: Jul 2012
Location: Indianapolis
Posts: 2
I think the car was sold last I heard.Not positive though.
Registered User
Join Date: Aug 2007
Location: MD
Posts: 199
Anyone know where this car is now?
---
87 Regal Turbo T Limited 10k org miles
14 Ram Big Horn
Registered User
Join Date: Dec 2014
Location: Toronto Ontario
Posts: 96