Registered User
Join Date: Mar 2015
Location: New Hampshire
Posts: 127
Dyno Results: Not as expected... Clutch?
---
So after a long build, I finally got my car on the dyno and got it driving.
351w Roller
F303
On3 70mm
GT40x
1.72 roller rockers
3" Intercooler to elbow intake
60# deka
Ba5000
Plugs gapped @ .030"
The expectation after my 2 years of internet and forum jockey-ing told me I would be in the realm of 600 rwhp at 16psi of boost. I decided I didn't need quite that much and I would tune it to 11-14 psi. After a few pulls we were right in the 11# range. With the build, and that boost I would assume close to 450-500 rwhp (no?). As you can see by the graph below i was quite a bit lower than that.
During the pull i noticed the motor would pull steady until I got near peak boost territory. After that the car would rapidly approach the rev limiter and finish out the pull. Basically once the waste gate opened at roughly 3500 the motor would zip right up to 5500/6000 and finish the pull.
I have yet to see a torque chart fall off like mine does. That is a very rapid drop from what I can see. It feels like, and even sounds like my clutch may be slipping once I get up in the torque range (our fist pull we saw 515ftlbs @ 3500). Can anyone confirm that this dyno chart looks like one the depicts a slipping clutch? I already have a new McLeod 75307 on the way that should handle the torque better than my crap clutch I have in it now but I am curious if anyone has any tips or knowledge on what the heck I might be seeing.
I was told to grab an MSD 6AL to help with spark voltage and a more effective rev limiter.
Being a full 100+ rwhp short of what I thought I would see is a bit confusing. Seems to me that with the AFR tuned well, the timing adjustments made, and the motor build, something mechanically is not doing its job. Any thoughts?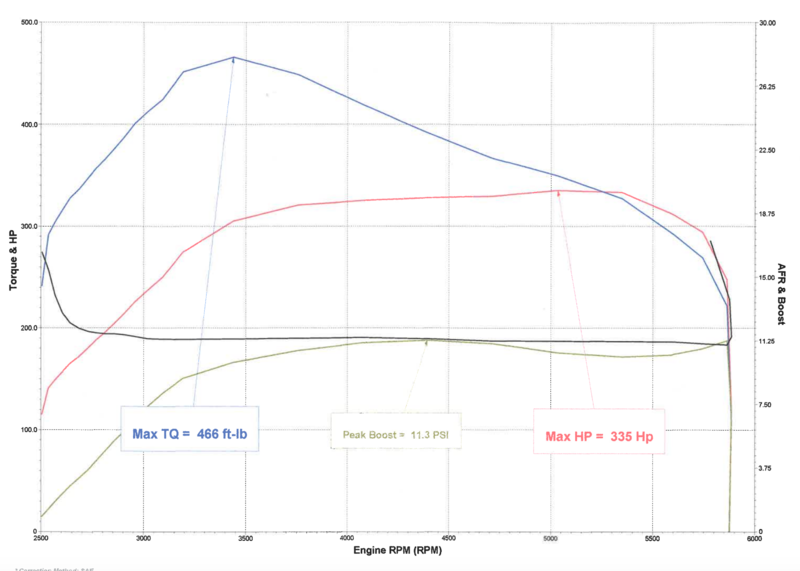 ---
'83 Capri: 351w Roller, TKO 500/600, Intercooled 70mm On3, GT40X, F303, Shootout EFI, 60# Deka, BA5000, McLeod 75307
Registered User
Join Date: Mar 2015
Location: New Hampshire
Posts: 127
Update:
Verified that the clutch is in fact slipping...alot
I can slip it a bit in first, a decent amount in second, ALOT in 3rd. So a 4th gear dyno pull? Yeah forget about it.
Once my new clutch is installed I'm going to see if I can grab a quick pull just to check power output.
Hopefully another graph to come.
---
'83 Capri: 351w Roller, TKO 500/600, Intercooled 70mm On3, GT40X, F303, Shootout EFI, 60# Deka, BA5000, McLeod 75307
Registered User
Join Date: Sep 2013
Location: Wisconsin
Posts: 271
Glad to hear it was just the clutch. Imagine the clutch was good, where would you start with a dyno graph like that lol.

Keep this thread updated, I like happy before/after stories.
---
Fresh 306, BBK fender mount CAI, 75mm MAF, 70mm throttle, Typhoon intake, Letter cam, ported/polished E7's, BBK equal length shortys, Full exhaust with Flows. T5 swap, 3:55's
Dyno'd 300/316
Best ET 12.4 @ 108, 1.66 60ft on stock suspension
Track scale - 2745 lbs
Registered User
Join Date: Dec 2010
Location: Dallas/Houston
Posts: 1,116
Lol yeah that's definitely the clutch. 302's on 8lbs make 430-450 through a T5 on pump gas. I'd roll that car right off a cliff if the clutch wasn't slipping.